How Universal Pictures has sold the latest in a massively-ridiculous franchise
Before we begin recapping the marketing campaign for this week's big new theatrical release it once more needs to be stipulated that, with the exception of Hobbs & Shaw, I've not seen any of the Fast and/or Furious films. A scene here and there has crossed my radar but that's about it. And I'm doing just fine.
With that out of the way, we're here to look at the campaign for Fast X, the latest film in the series that's now been going on for 22 years, five more than the Marvel Cinematic Universe. Once more the story that began with a bunch of street racers sidelining as thieves hawking stolen DVD plays grows more outrageous, this time with those drivers getting involved in international espionage after being blamed for an explosion at the Vatican. Of course the theme of the story is about family and what it means to be in one, whether because of blood or friendship.
Vin Diesel, Michelle Rodriguez, Tyrese Gibson, Ludacris, John Cena and others from the earlier movies return along with newcomers Brie Larson, Scott Eastwood and Jason Momoa, the latter playing the film's villain who bears a personal grudge against Diesel's Dom.
Dan Mazeau and Justin Lin wrote the screenplay and Louis Leterrier directed, so let's fire up the nitrous and take a look at how it's been sold.
announcement and casting
Everyone knew the movie was happening – Lin and others even commented on it during the F9 marketing and publicity – but it wasn't until August 2021 when Universal officially gave it a release date.
In mid-April Universal announced the beginning of production on the film and revealed the official title, one that was met with lots of gags about the treatment's similarity to both the X-Men movies and to things like Jason X as well as the franchise's inability to stick with a cohesive numbering scheme.
Larson joined the cast in early April and Momoa later that month.
Those additions were followed by a subtraction as Lin exited the film in late April, reportedly over creative conflicts with Diesel. Leterrier was named the new director a week or so later, picking up a production that was already halfway complete.
The casting of both Eastwood and Moreno came in May 2022. A month later it was among the movies Universal talked up to attendees of CineEurope. Perry joined the film in January.
Rodriguez talked about the impact Leterrier had when he joined the production and Momoa commented on joining the series while he was promoting "See" last year.
the marketing campaign: first gear
At the end of this past January a poster dropped promising audiences "The end of the road begins" while showing Dom clutching a rosary. That copy indicates this installment is *almost* the last in the series but that we're only really at the start of the last chapter.
That was followed by a series of videos with highlights from the first nine movies, all meant to show how the story has been building to this point and how it really is all about family.
The ensemble cast of the film was shown off in a video where they all get out of a race car and look very serious.
The trailer (38m YouTube plays) was finally released, but in usual franchise fashion it wasn't just dropped willy-nilly online but introduced at a massive event in Los Angeles in early February. In the trailer itself we see that Reyes (Momoa) is coming after Dom and his crew because he wronged him years ago and is seeking revenge. Other highlights include:
Dom smashing two helicopters behind him after he launches his car out of a transport plane
Jakob (Cena) firing missiles out of two launchers crudely attached to the sides of his car
Reyes not being able to look at anyone unless his head is tilted down so he has to look out the tops of his eyes
Flashback footage from earlier films with the late Paul Walker's Brian O'Conner working with Dom
There were lots of interviews and such from that trailer event, including Leterrier talking about the harried circumstances under which he joined the film halfway through.
A commercial that aired during the Super Bowl broadcast shortly after that cut the trailer down to its most essential elements. Right around the same time Diesel appeared at the NBA All Star Draft to open the event and hype up the movie.
The theatrical poster released in mid-March puts Dom at the center of a collage of all the characters, cars and locations, all of which is framed within a big "X".
There was a very short featurette that has Diesel and everyone else talking about coming together once again and how it's really all about family.
TV spots began airing in earnest (the only time that word can be used when discussing these movies) in early April, continuing to pull out some of the biggest sequences to highlight while also offering time for Dom to brood and sound solemn. There was one specifically for the NBA Playoffs featuring Bronny James, a good chance to once more stress the importance of family.
Another featurette has everyone involved talking about how this one ups the ante on all fronts even more than the previous installments and how great it was to have some of the new faces around.
The studio sponsored livestreams of performances from Coachella in mid-April.
the marketing campaign: second gear
With a month to go before the movie came out, a couple rounds of character posters had each of the major players staring out over the top of a steering wheel.
The second trailer (28m YouTube plays) features a bit more story than the first, opening with Reyes framing them for a massive bomb that rolls through Vatican City before going off. Dom then has to assemble lots of his current and former compatriots to help save his son who's been kidnapped and clear their name.
Momoa and others give the audience some background on who Dante Reyes is, as well as why Momoa wanted to join the franchise, in a featurette.
Universal showed off the movie during its CinemaCon presentation at the end of April, with Diesel and others from the cast appearing on stage to talk about their love not only for this series but also the theaters it will be shown in.
We get a recap of the relationship between Dom and Letty as yet another setup for the stakes of this movie's story.
Additional featurettes cover the father/son dynamic between Dom and his son "Little B", shooting those key sequences in Rome, more about filming in Rome, the additions of Cena and Larson, the process of filming the fistfight between Letty and Cipher (Charlize Theron) and how the "ball bomb rolls through Rome" footage was mapped out and shot.
More sports-related promotions came in early May as Diesel and Rodriguez made an appearance at a Formula 1 race in Miami and those watching the Kentucky Derby on NBC or Peacock got a look at exclusive footage from the film.
An extended "final" trailer (7m YouTube plays) came out just earlier this week, pretty much compiling lots of the footage we've previously seen in trailers, TV spots, clips and other media.
Everyone turned out for the premiere, held appropriately in Rome. That kicked off the international media tour with additional stops in Mexico, New Zealand and elsewhere before concluding in L.A., where Ludacris was joined by some of his costars at his Hollywood Walk of Fame ceremony.
At the Rome event Diesel hinted that this was just the first in a two-part story to be concluded in the 11th film in a couple years, though the director and studio have been more vague about those plans.
There were also a bevy of stories about the whirlwind process of Leterrier coming on as director, something that apparently went from "inquiry" to "he's landing and on his way to the set" in a matter of hours. He was also interviewed about securing some of the cameos seen in the film and more.
overall
The $60 million projected for the movie's domestic opening weekend is overshadowed by the $280 million it's expected to bring in globally, showing that this campaign hasn't changed many minds or done much to attract new interest here in the U.S. but it has successfully triggered awareness overseas, and that's what really matters.
From the moment it kicked off, the marketing has been all
And there's plenty here about the cars and how the focus is still on characters wanting to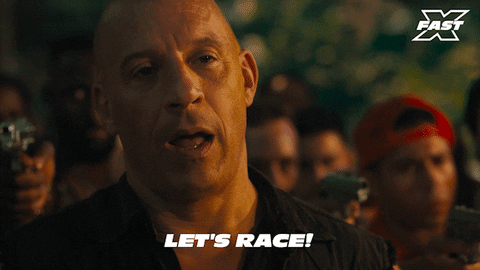 But really, isn't it all about