The first Knives Out movie from writer/director Rian Johnson was such a breath of fresh air back in 2019 it became an immediate sensation for a variety of reasons, including its incredibly meme-able dialogue and settings and the A+ sweater game from costume designer Jenny Eagan.
It was so good it was hard to imagine what a sequel might look or feel like. Thankfully Glass Onion: A Knives Out Mystery, released late last year on Netflix, lived up to the reputation of the first movie and, now that I've watched it a couple times to fully appreciate how good it is, I have a handful of random thoughts.
Here we go…
Eagan's commitment to putting Daniel Craig in an ascot should be awarded in and of itself and I'm only surprised it hasn't led to a clear and unmistakable uptick in their adoption as a men's fashion item.
It makes so much sense that Kate Hudson's performance caught everyone's attention as she's terrific as a societally-oblivious pseudo-celebrity, but what really makes it incredible is that all of her reactions to what's happening around her are so stagey. It's as if her character has absolutely zero experience in anything not involving mugging for the camera.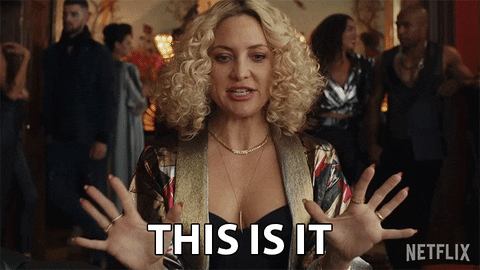 On the opposite end of the spectrum is Kathryn Hahn's gubernatorial candidate, who has such genuine reactions to everything, from Duke shooting his gun by the pool to her husband trying to be his own man to the revelation at the end that those reactions nearly become a character of their own.
I know the movie – and The Menu – caught some flack for not going far enough in exploring its "the rich are terrible people" theme but come on. If Edward Norton's Miles Bron had actually faced some kind of on-screen legal repercussions for his irresponsible actions it would have been written off as frothy wish-fulfillment. As it is he's set up to be exposed as a massive fraud, which is much more realistic without dipping into fantasy.
Besides, Benoit Blanc spends the last 20 minutes of the movie just repeatedly calling him dumb, which is cathartic enough for the audience.
And Blanc immediately dismisses Birdy when she tries to spin Bron's actions as "so dumb it's just brilliant" by clarifying "No, it's just dumb!" Now if only our technology and political press would be similarly truthful instead of continually succumbing to the myth of the genius.
At least Derol made it out of all that with his chill intact.
If there is an element of the story that isn't explored enough for my personal liking it's that Bron's success is nearly entirely dependent on being a white dude who takes all the credit for a Black woman's ideas and work and that feels like the most relevant theme especially given [gestures broadly at so many many things].
And, on that note, I very much dug Janelle Monáe's performance as twin sisters, beginning when she's introduced smashing the puzzle box and right through to her vengefully breaking all of Bron's glass sculptures.
Someone give me a Leslie Odom Jr. / Kathryn Hahn buddy comedy STAT or I *will* riot.
Back to a point above, we all believed Norton's performance as the not-at-all brilliant "genius" because we kind of suspect Norton's not quite as bright as we've been led to believe over the years, right? Not that he's not a smart guy, but…you get it.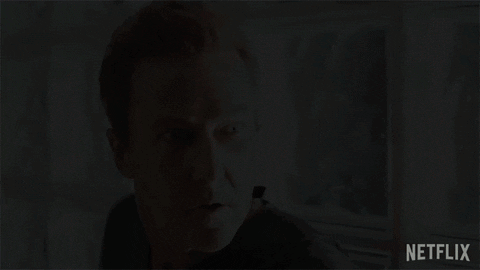 A brief ranking of current big name wrestlers-turned actors:
1. John Cena
2. Dave Bautista
….
…
25. Dwayne Johnson
This whole brief sequence with characters looking in the middle distance as shadows pass over them hit me right where I live, evoking all those classic murder mystery noir films I was first exposed to watching "Family Classics" on WGN-TV on Sunday afternoons in the 80s.
Let's take a moment and recognize how his brief appearance as Efficient Man ranks in the top five of Ethan Hawke's performances.
It's been such a long time since I watched a movie where the whole cast looked like they were having a good time. Too often the casts of the big super hero and similar movies look visibly miserable going through the paces and acting against tennis balls held on sticks in place of characters to be added later, it was genuinely relaxing to see an ensemble that appeared to be enjoying themselves and the project they were working on.
Sorry, I'm laughing again at Johnson blowing up his own movie by having Blanc solve the contrived murder mystery five minutes in to Bron explaining how the weekend is supposed to work.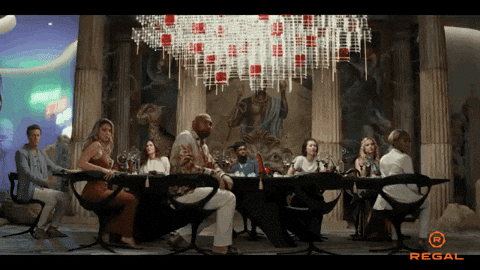 Everyone else yelled "A SCHOONER IS A SAILBOAT" (even if it was just in their heads) when Lionel was working the stereogram on the puzzle box, right? Right?
In a movie filled with committed performances from talented actors Madelyn Cline's performance as Dallas is near the top of the rankings and I will absolutely die on this hill. It's so good and shows not only her talent as an actor but Johnson's ability to make the audience invest in and care about characters that are clearly secondary but still important.
Same goes for Jessica Henwick's put-upon assistant Peg. If you don't feel her disappointment and frustration when Birdy reveals she has a secret phone and her resignation when she says "…Did you think a sweatshop is where they make sweatpants?" I'm not sure movies are really your thing.
Oh, along with the Odom Jr. / Hahn buddy comedy I want a direct spinoff where Dallas and Peg team up and create the next big socially-conscious lifestyle goods brand and have all kinds of wacky adventures while doing so.